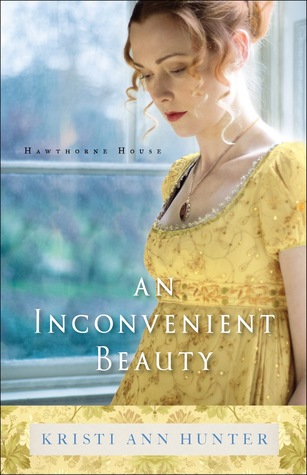 RITA Award-Winning Author Kristi Ann Hunter's Hawthorne House series transports readers back to Regency England. Fans are ecstatic that now in book four Griffith Hawthorne, Duke of Riverton, is getting his own story in
An Inconvenient Beauty
.
Griffith is a man who "like[s] order...traditions and routines. He especially liked when those around him followed them, because predictability meant a minimum of surprises." (Hunter, 127). He applies these same characteristics in his search for a wife. His sights are set on Miss Frederica St. Claire, but the lady of the hour seems intent upon alluding his courtship and foists her beautiful cousin, Miss Isabella Breckenridge on him. Making her society debut, Isabella Breckenridge is quite the toast of London with "her ridiculously fashionable and symmetrical features." (Hunter, 142). Her presentation is overshadowed by her main purpose...obtaining the money needed to save her family's farm, thus begins the story of
An Inconvenient Beauty.
Hard to put down, this book is filled with romance intertwined with blackmail, intrigue, and surprising plot twists.
Earlier this summer I had the privilege of meeting Kristi in person. She was kind, gracious, and exceptionally funny. Kristi wears many hats, one being a talented author. After reading her books, she was everything I expected she'd be...and more.
**
An Inconvenient Beauty
was provided to by the author herself and Bethany House in return for my honest opinion.