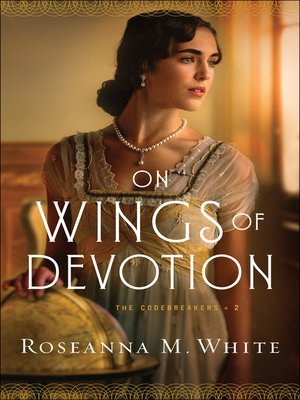 What better way to start off 2020 then with Roseanna M. White's newest book On the Wings of Devotion. It is the second book in her Codebreaker series.
Arabella "Ara" Denler is a nurse at Charing Cross Hosptial and has witnessed her share of men whose lives have been forever altered by the Great War.
She finds herself drawn into observing the man the papers nicknamed "Black Heart" who is better known as Major Philip 'Cam" Camden. She sees how eaten up with guilt he is and that he longs for mercy.
Through circumstances, Ara and Philip's lives become interwoven. They find themselves drawn to one another both by social visits and events out of their control.
Arabella Denler was by far my favorite character in the book. And it's not just because she was the heroine of the story. Oh no....it must more than that. I admired her kindness, compassion for others coupled with her generosity and her passionate love for Christ and her praying and witnessing to others specifically Cam who thinks he "doesn't have a soul." (White, 179).
I love how Arabella challenges Cam's view of himself and to see himself through the lens of grace. Everyone has a soul and I love how you get to see his character learn this for himself because of Arabella's strength to challenge him and share her love for Christ. Cam was a different hero then what you typically find and I really enjoyed that about this book.
The cover art for On the Wings of Devotion was mesmerizing. Simply stunning! I loved the muted yellows and greens of her dress and the globe. The cover model had a unique understated beauty about her. While reading the book, I often found myself closing the book and flipping it to the front cover.
If you have been looking for a book that will take you on a suspenseful journey and keep you guessing, this is the book for you. Happy Reading Adventures!
~~

On the Wings of Devotion
was provided to me by author herself and Bethany House in return for my honest opinion. I received a complimentary copy of this book from the publisher and the author. I was not required to write a positive review. All viewpoints expressed are mine alone. ~~